Lovely Dominica
Dominica was the first island in the West Indies sighted by Christopher Columbus on his 2nd Voyage to the New World.
Today many people confuse 'Dominica' (The Commonwealth of Dominica) with the 'Dominican Republic', believing that they are one and the same.
It is therefore important to note that The Commonwealth of Dominica is situated in the Windward Islands (West Indies) and is English speaking, whereas Spanish is spoken in the Dominican Republic, which shares the island of Hispaniola with Haiti.
10 Quick Facts About Dominica
Area and Capital
Dominica is a relatively small country, measuring about 750 km2. The capital is called Roseau.
Dominica Population
Currently, the population stands at about 75,000 comprising people of African descent, Indigenous Indian, as well as Asian, Syrian and Lebanese.
The Kalinago (indigenous Carib) Indians reside mainly in eight villages which together are known as the Kalinago Territory or Carib Reserve, established in 1903 by the British colonial authorities.
Surely, with increasing numbers of families acquiring Dominica citizenship through citizenship by investment, Dominica well expects to have a way more ethnic diverse populace in years to come.
Independence, OECS, Caricom
Once a British colony, Dominica has been independent since 1978.
The island forms part of the geographical grouping of the Windward Islands and is a member state of the Organization of Eastern Caribbean States and the Caribbean Community Single Market and Economy (Caricom-CSME).
UNESCO World Heritage Sites
In 1997 the Morne Trois Pitons National Park was inscribed by UNESCO's World Heritage List.
Other historical sites and nature reserves such as the Morne Diablotin National Park, Soufriere-Scott's Head Marine Reserve and Fort Shirley were further named as World Heritage Sites in 2015.
Once again, we invite you to grab your Dominica passport and come visit!
Currency and Central Banking
Dominica's currency is the Eastern Caribbean dollar (XCD) which was pegged to the US dollar on July 7, 1976.
Banking and monetary policies in Dominica are overseen by the Eastern Caribbean Central Bank (ECCB) which is the Monetary Authority of Grenada, Montserrat, Saint Lucia, St. Vincent and the Grenadines, St. Kitts and Nevis and Dominica.
The ECCB was established on July 5, 1983.
Such banking stability has indeed strengthened Dominica's case as a leading jurisdiction for citizenship by investment.
Dominica Central Government
Politically, Dominica is a parliamentary democracy with an Executive headed by a Prime Minister who is supported by a Cabinet of Ministers.
As it turns out, state governance is based on the British model, with its powers separated into three branches, namely the legislature (parliament), the executive and the judiciary.
Anyone with Dominica citizenship who has resided in the country for the requisite period of time is eligible to vote and become a candidate for government.
Administrative Divisions
There are ten administrative divisions, otherwise known as Parishes.
These are Saint Andrew, Saint David, Saint George, Saint John, Saint Joseph, Saint Peter, Saint Paul, Saint Mark and Saint Luke.
Local Government
Dominica also has an active local government system, whereby Village Councils are elected by local communities to undertake certain duties.
These include attending to community concerns, cleanliness, and providing Central Government with information necessary to ensure that development programs and projects are customized to best meet the needs of local communities.
Projects often undertaken by Village Councils of Dominica include the construction and maintenance of public conveniences, water supplies, health centers and village roads.
Dominica Economy
Dominica's economy is based mainly on agriculture, tourism and financial services.
Citizenship by Investment has been an important source of income, generating revenue for critical capital projects, and the creation of jobs through construction and establishment of hotels and residential homes.
Dominica Citizenship
Dominica Citizenship by investment has been a main source of revenue for the island and stimulates the development of the tourism industry as well as the creation of permanent jobs.
Dominica Citizenship by investment program provides a means by which successful citizens of foreign countries are able to apply for Dominica Citizenship by either donating to the Government Diversification Fund or investing in Government Approved Real Estate such as Sunctuary Rainforest Eco Resort and Spa.
In addition to citizenship by Naturalization, Dominica recognizes citizenship by right of the soil (by birth), right of blood (parentage) and registration (residency).
Rugged Nature and Hiking
To the lover of nature, Dominica offers countless hiking and diving opportunities.
Dominica is called the "Nature Island of the Caribbean" and is affectionately referred to as land of 365 rivers, "a river for every day of the year" by local residents.
We bet you did not know that this small country is also known for the second largest Boiling Lake in the world; a source of pride for every Dominican citizen.
Dominica's boiling lake is located at the Morne Trois Pitons National Park (a World Heritage site). It is a flooded fumarole measuring 10.5 km and is the second largest in the world, after the Frying Pan Lake located in New Zealand.
Also, the island offers an amazing experience of viewing both the Caribbean Sea and Atlantic Ocean from a small peninsula at the southern village of Scotts Head.
The Boiling Lake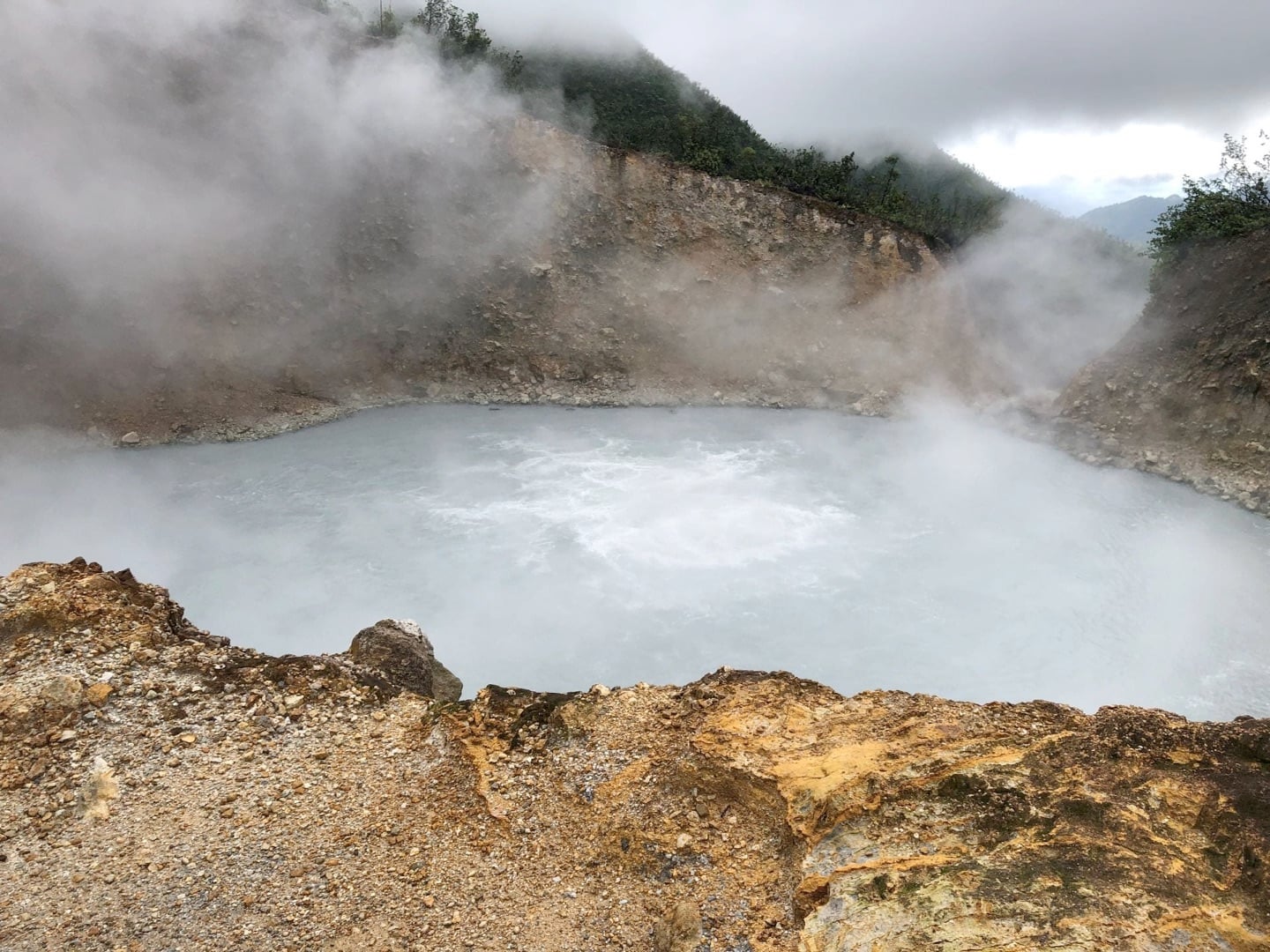 Dominica is home to the Champagne Beach, one of the Caribbean's rarest wonders is proof of the island's volcanic nature; being a reef from which gas bubbles rise from the volcanic sea floor, giving a unique under water "Jacuzzi" dive experience.
Champagne Reef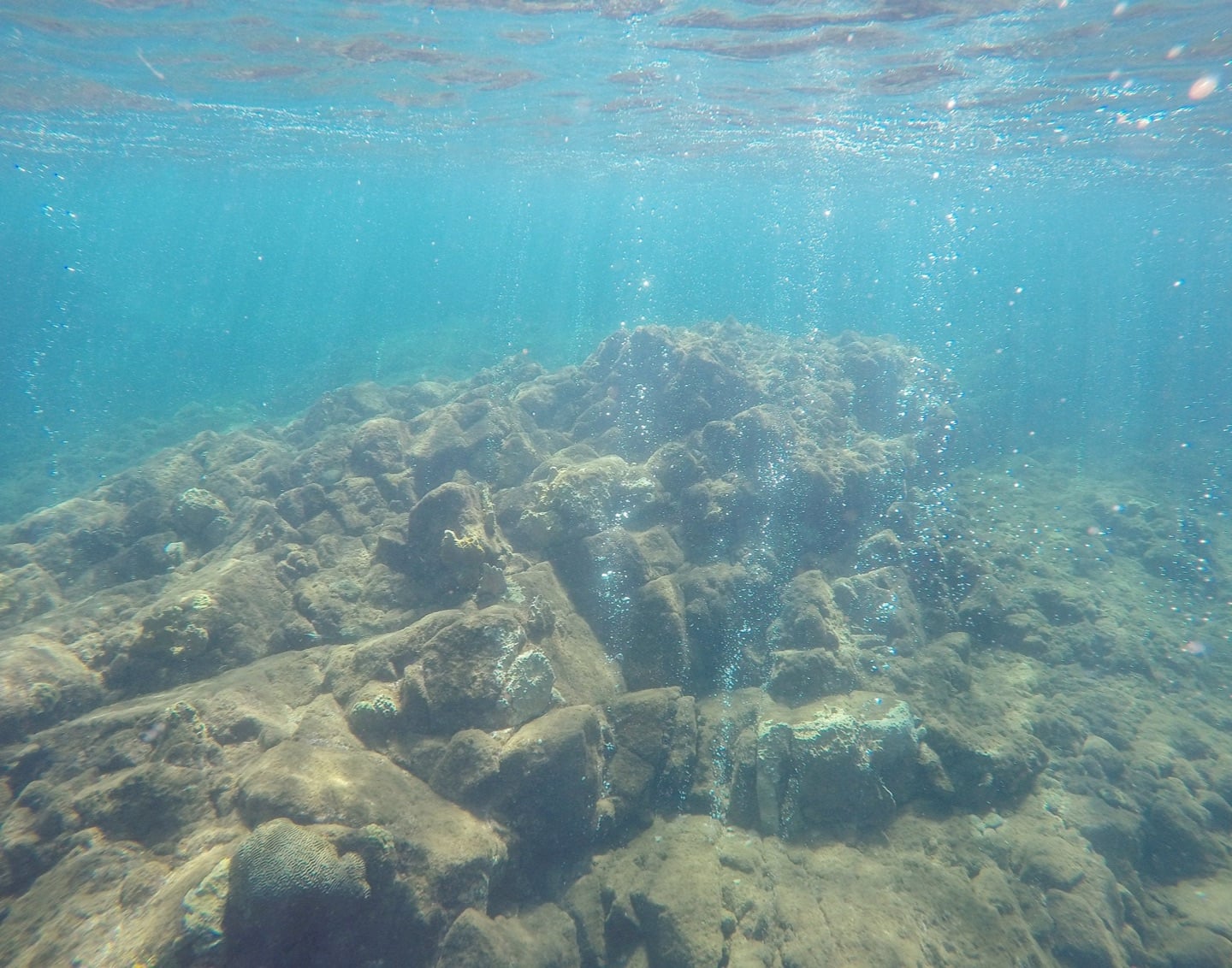 We are certain that you'll be amazed at Dominica's rich Creole culture.
Much of it comes from Dominica's African heritage and its location between two French speaking islands, Martinique and Guadeloupe, to which anyone with Dominica citizenship does not need a visa.
Traditional Dance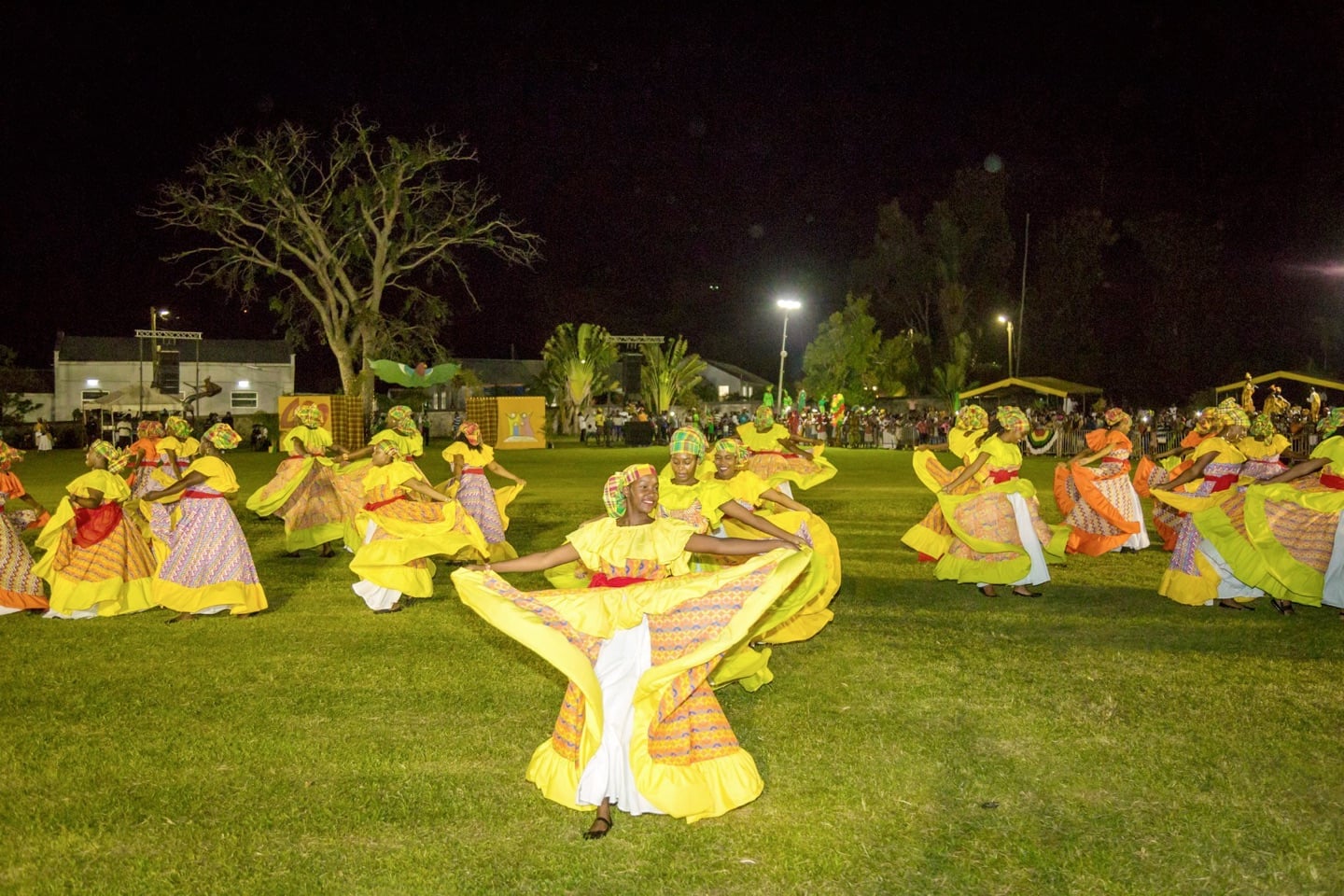 Interestingly, it is often said that the French and British changed hands of Dominica 7 times.
The Battle of the Saintes/Bataille de la Dominique was an invasion which defined the moment of British rule. This was the final battle between the French and British for the island, and occurred between April 9th to 12th, 1782.
With such a colorful historical background, English is the island's main language.
However, French Creole is also widely spoken by people of Dominica citizenship living on the island, as well as overseas. This language is an important medium of preservation of a significant portion of Dominica's traditional beliefs and practices.
So, did Columbus, the French and British meet any Indians?
Yes, they did.
Indigenous People – The Kalinago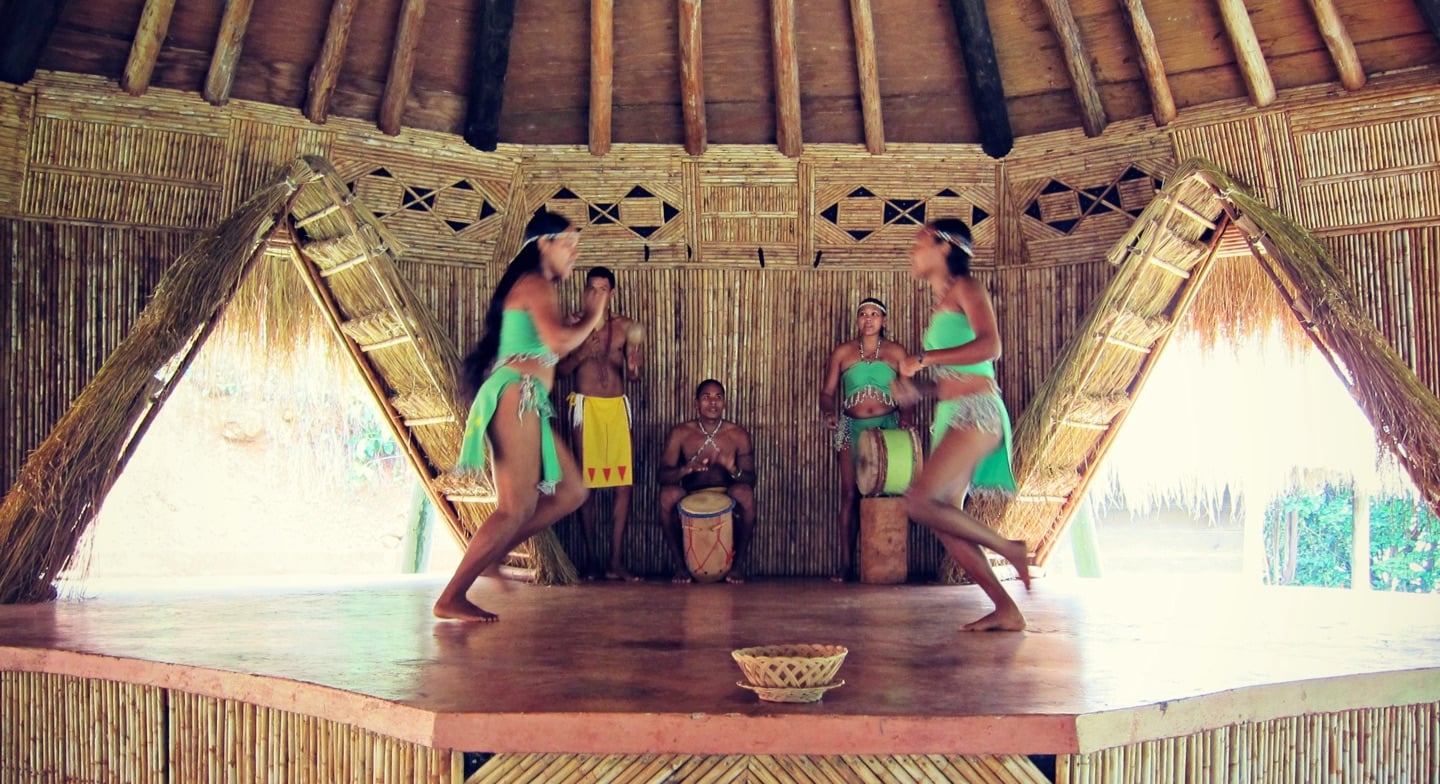 It is well known that indigenous Indians, the Caribs and Arawaks travelled from Central and South America in boats called "canoes".
Do you know that it was after these Indians that the word "Caribbean" was created?
And that the Kalinagos, although wiped out by European colonists in large numbers survived by hiding in the forests of Dominica?
The filming of various parts of Pirates of the Caribbean - 'Dead Man's Chest' beautifully showcases Dominica's scenic beauty.
Witch's Hut featured in the Pirates of the Caribbean